This film is a stirring film about the intersection of math and history and how math conquers all (rejoice, my math teacher friends!).  The story portrays the struggles of Dorothy Vaughn, NASA's first African American supervisor; Katherine Johnson, the math expert on the John Glenn flight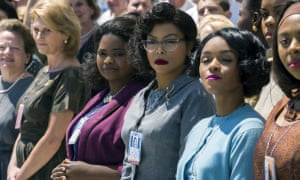 and also instrumental in the moon landing; and Mary Jackson, NASA's first female African American engineer.  It is startling to see how Jim Crow racism was shoved in the face of these strong women, typified in Katherine's struggle to maintain her dignity while sprinting across NASA's campus to visit the only "colored" bathroom nearby.  Furthermore, the women of the West Computing Room have to deal with the intersectionality of both racism and sexism since they are women of color.  With Dorothy's leadership, they are able to carve out a niche in the very male-dominated computing field.
In some ways, this is a film about progress: Civil Rights progress, gender progress, and also technology's relentless march forward.  This is shown by the real film clips of Civil Rights protests occurring in 1961 and 1962.  We also see progress as women make strides into the male-dominated fields of computers and engineering.  Almost all of the white male characters at NASA are figurative clones, wearing white shirts, dark pants, and thin dark ties.  Occasionally, we might see a flash of color on Paul Stafford's tie (Jim Parsons from The Big Bang Theory), but for the most part, all of the white men have the same uniform and haircuts.  That's why the women of color stand out, not just in their attire but because of their skin color.  We see technology's progress, however much it is double-sided, when Katherine temporarily loses her job as a "computer" in the Space Task Group when Dorothy finally gets the IBM Main frame computers online, a machine that can do 24,000 calculations a second.  This machine makes the women of both the East (white) and West (Black) Computing Rooms obsolete.  Only when the computer spits out different landing coordinates for John Glenn's return to Earth right before launch does Al Harrison (Kevin Costner), NASA's head of the Space Task Group, bring Katherine back in to confirm the computer's numbers.
There was an outstanding moment near the end of the film when news of John Glenn's orbit is released, and all Americans, regardless of skin color or gender, are united in their worries over the fate of Glenn (a
nd by extension, America's space program and maybe even its prominence in the Cold War).  Scenes show black and white Americans standing in front of a store front watching the TV reports about the peril Glenn faced as his capsule threatened to burn up on re-entry (an aside: imagine this dramatic scene of a nation gripped by a similar incident today – how would Americans be tuning into the progress of such an incident?  Certainly not standing on a street watching a TV).  Another scene showed Americans parking their cars and listening to their radios, staring up at the sky, looking for a fleeting glimpse of Glenn's capsule, even though it was going to splash down in the Bahamas.  These scenes showed a united America, hoping and praying for the successful return of one of our golden boys, the Mercury 7 astronauts.  These scenes are also a way of showing how little militancy there is to this story of racial advancement and integration.  The most powerful scenes in the film are ones in which characters stand up for themselves or right the wrongs of our sordid past.  This is not a criticism of this film.  It doesn't need to be angry about the past. In fact, this film emphasizes the women of the film and to dwell on America's sad racial history isn't what this film is about.  It's about transcending that history.
I think that one of the larger question that everyone should be asking themselves is how did this story not make it into the history books?  It has great human drama, excitement, daring, perseverance, and a thrilling conclusion.  The other question is how many other hidden and forgotten stories are out there, waiting to be told?   If these ladies, who were such an extraordinary part of this story to send Americans into space, can be forgotten and shunted to the side for over 60 years, where are the rest of these stories?  One thing to keep in mind is that by telling these hidden stories of people / women of color, we as historians do not have to pick and choose to eliminate stories of white participants, but to include them all.    History doesn't have to be like a pie to be carved up into smaller and smaller sections but like a tapestry that continues to be weaved into a more complete picture.
CHOOSE 3 OF THE 5 QUESTIONS BELOW AND ANSWER THEM. 
Explain how the title "Hidden Figures" has different layers of meaning for this film and time period.
Provide at least 2 specific examples of Jim Crow discrimination or racism perpetrated by the white characters and how they affected Katherine, Mary, and / or Dorothy.
This is a story of overcoming challenges that white society put in the way of our main characters.  How did all three women overcame these obstacles.
How did sexism affect Dorothy's, Mary's, and Katherine's careers?  Provide specific examples.
How does the Civil Rights Movement play as the backdrop for the advancing fight against the Cold War's space race?  Provide examples.
300 minimum words for your total answer for all three questions.  Due Thursday night, June 1, by 11:59 p.m.